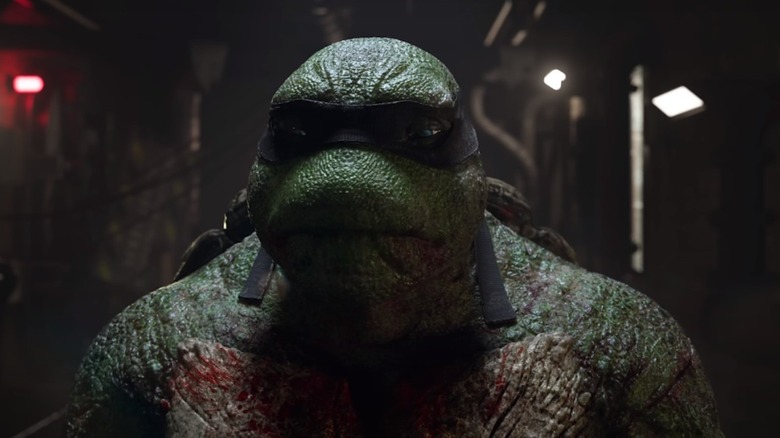 (Superhero Bits is a collection of stories, updates, and videos about anything and everything inspired by the comics of Marvel, DC, and more. For comic book movies, TV shows, merchandise, events, and whatever catches our eye, this is the place to find anything that falls through the cracks.)
In this edition of Superhero Bits:
Meet the new Iron Man voiced by John Stamos.
"Daredevil" hits a milestone next month.
A teaser for the new "The Boys" spin-off, "Gen V."
Sony removes a Marvel movie from its release calendar.
Meet Spider-UK, A New Spider-Person Within The Spider-Verse
Marvel Comics is getting ready to expand the scope of the Spider-Verse later this summer with a new miniseries titled "Edge of Spider-Verse." We already learned that a new variant within the multiverse named Spider-Rex is going to debut in the first issue. Now? Meet Spider-UK, who is going to appear in the book's second issue, which hits stands on August 17, 2022. Ramzee and artist Ruairí Coleman are spearheading her first adventure, with Zoe Thorogood designing the character. Check out the preview art above.
IDW's Plans For San Diego Comic-Con Revealed
San Diego Comic-Con is happening next week, and it will be the first truly meaningful version of the convention since 2019. As such, much attention has been paid to the major studios and the big two comic book companies, Marvel and DC. But IDW is also bringing a major presence to the con and the above video details the company's plans. There will be plenty of SDCC exclusive items, including a signed hardcover of "TMNT: The Last Ronin," as well as several major panels like IDW Publishing: 2022 and Beyond! You can check out the above video or, IDW's full plans can be found by clicking here.
Daredevil Celebrates 650 Issues With Oversized Issue Next Month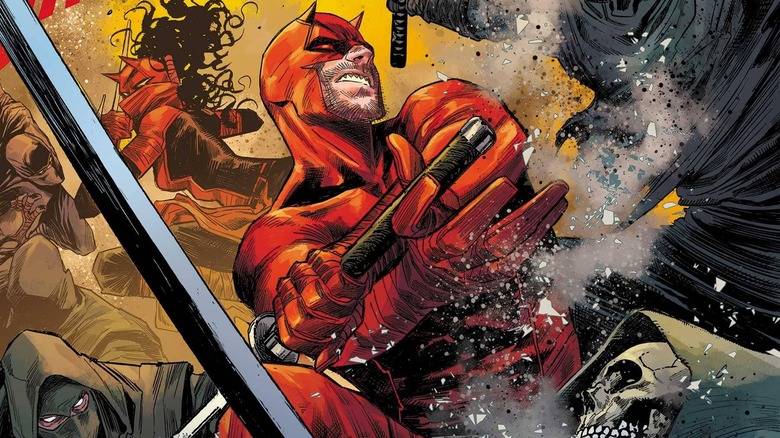 Even though "Daredevil" recently relaunched with a brand new #1 issue, the series is crossing a major milestone next month with its 650th issue hitting stands. As such, Marvel Comics has announced a special, oversized issue with "Daredevil" #2 serving as a celebration of the Man Without Fear. Writer Chip Zdarsky had this to say about it:
"It's not often that a comic gets to issue two these days, so… oh wait, it's issue 650?! Well, in that case, I'm over the moon that we get to celebrate with so many legendary Daredevil creators! Daredevil is a title that has had so many amazing runs that it wouldn't feel right to have an anniversary issue without inviting the people who made the book so special for so many years."
You can catch a glimpse at the cover artwork above, but all of the preview art for the issue can be seen by clicking here.
John Stamos Arrives As Iron Man In Spidey And His Amazing Friends Clip
It had previously been revealed that former "Full House" star and occasional member of the Beach Boys John Stamos was set to voice Iron Man/Tony Stark in "Spidey and His Amazing Friends" season 2. Well, the above clip from the Marvel HQ YouTube channel showcases Stamos in action, with he and Spidey teaming up to take on Rhino. Yes, it's a children's show, but it has been very well received and the odd charm of a guy like Stamos playing Iron Man in any capacity is worth checking out. "Spidey and His Amazing Friends" season 2 premieres on Disney Junior on August 19, 2022.
Ms. Marvel Star Iman Vellani Did A Very Fun Reddit AMA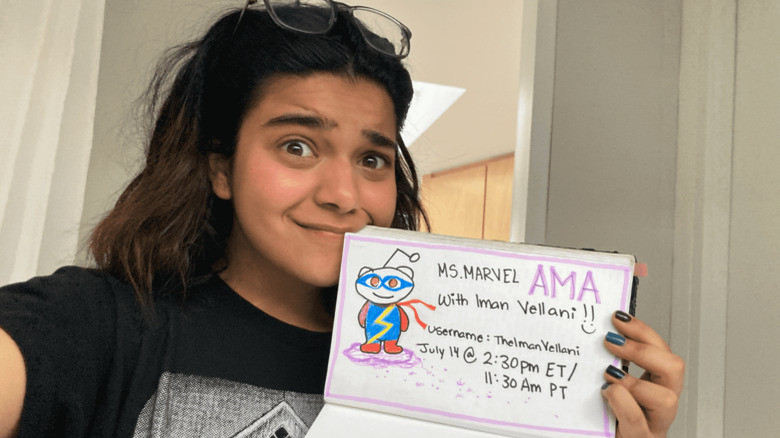 With "Ms. Marvel" season 1 in the books, star Iman Vellani decided to pop by Reddit for an AMA. It was extremely entertaining and Vellani was thoughtful as well as amusing throughout. For one, when asked what other character she would like to play in the MCU, she answered simply by saying "Galactus." She also recommended that fans read the 2014 "Ms. Marvel" run in the comics, as well as "Civil War II." As for who she would like to team up with in the MCU?
"I would love to see a kamala/ wolverine dynamic in the MCU. also there is a really cool story where kamala fights the shocker and bruno ends up seeing all of her possible futures and that makes me really emotional every time I read it."
That was really just the tip of the iceberg as Vellani had a lot to offer throughout the AMA. You can check out the whole thing by clicking here.
Meet The Cast Of The Boys Spin-Off, Gen V, Which Is Now Filming
And we're off! Not long after "The Boys" season 3 wrapped up, Amazon Prime Video has revealed that the upcoming spin-off series, titled "Gen V," has kicked off production. The series will focus on supes in college, and the video above introduces us to the new cast members we'll be following on the next adventure in this universe. Jaz Sinclair, Chance Perdomo, Lizze Broadway, Shelley Conn, Maddie Phillips, London Thor, Derek Luh, Asa Germann, Patrick Schwarzenegger, Sean Patrick Thomas, and Marco Pigossi make up the core ensemble. Check out the teaser video for yourself above.
Sony Removes A Mysterious Spider-Man Spin-Off Movie From 2023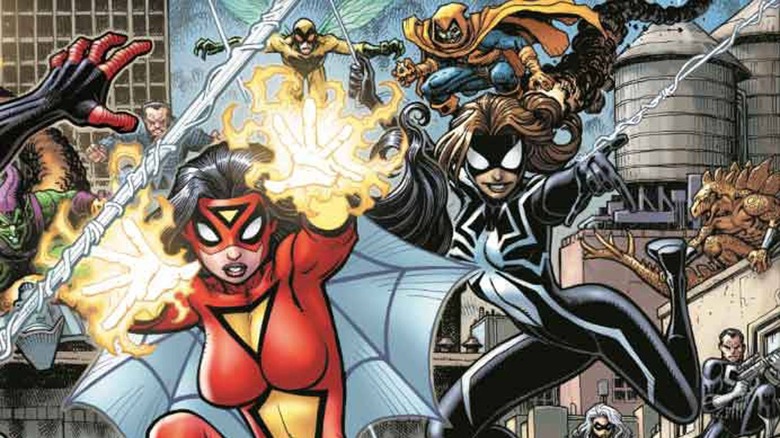 Next year will see the release of both "Kraven the Hunter" and "Madame Web," the next two "Spider-Man" spin-off films from Sony. However, the studio previously had a date locked down for June 23, 2023, and it belonged to an untitled Marvel Comics adaptation. Well, the folks at Exhibitor Relations reveal that Sony has removed this film from their release calendar entirely. As for what it might have been? That's tough to say, but it is very much worth nothing that Warner Bros. currently has "The Flash" set for that same date. So, at the very least, that very troubled movie (see Ezra Miller's recent history) won't also have to contend with a Marvel film at the box office.
TMNT: The Last Ronin Fan Animation Video Is Absolutely Amazing
Lastly, the above video from the speedokaggen YouTube channel has offered a pretty impressive interpretation of the recent "TMNT: The Last Ronin" comic in the form of a truly impressive animated short. The book is one of the most beloved recent storylines of any kind for the "Teenage Mutant Ninja Turtles" and it feels like only a matter of time before it is adapted in some way, shape, or form. While some of the animation in this video is kind of rough, such as the rat, the mystery turtle himself looks downright stunning. For a fan-made video, this is top-tier. One can only hope any official adaptation would be made with this much care.
Read this next: Sci-Fi Box Office Bombs That Deserve A Second Chance
The post Superhero Bits: The Boys Spin-Off Is Now Filming, We're Getting One Less Marvel Movie In 2023 & More appeared first on /Film.
Powered by the Echo RSS Plugin by CodeRevolution.